Notice:
Wifi is available outside the park office!
Call or email us with any questions!
woodlandpark@burttownship.com / 906-494-2613
Contact the township office during the off-season.
office@burttownship.com / 906-494-2381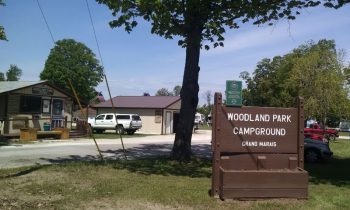 Click here to make Reservations!

Woodland Park is made up of 36 reservable sites and 132 first-come/first-serve sites. If you can't find a reservation for the dates you're looking for, first-come/first-serve may be your best option.
For more than half a century campers have been calling Woodland Park their second home. Situated on the shore of Lake Superior, the park is only three blocks from the main business area of Grand Marais; three blocks from the local marina; four blocks from sandy swimming beaches; a half-mile from the best whitefish sport-fishing in the state of Michigan; adjacent to the Pictured Rocks National Lakeshore; and only steps from agate beaches that keep rock-hounds coming back year after year. We take pride in our town, and in our campground. We hope that your stay will be pleasant and that you will continue to return to Grand Marais to let our scenery, our spectacular sunrises and sunsets, and our relaxed pace refresh your mind and renew your spirit.
Campground Amenities
All sites with water and electric sites have 30 & 50 amp service and cable. 
Facilities include two fully equipped bathhouses, laundry facilities, play areas for children, beach access from both ends of the park, gray water, and sewage dump stations, and a drinking water fill station. The non-camper dump fee is $10.00.
Showers are free to campers and available to non-registered campers for $1 per use. 
Adjacent to the park is the town's recreation area, which includes tennis courts, a basketball court, a baseball/softball diamond, a picnic area, and a tot lot. Campers are encouraged to utilize these facilities.
Registration Information
All guests must stop at the office upon arrival to choose a campsite or to check in to a reserved site.
Guests must fill out a check-in sheet with all contact information.
Once you've completed the check-in procedure you are welcome to set up on the campsite you have selected after our 1 PM check-in time.
Sites will be sold starting at 9 AM but will not be vacant until 1 PM
If you would like to extend your stay you must let us know by 2 PM the day before you're scheduled to leave the site. (If you fail to do so, you will be asked to vacate the site; NO EXCEPTIONS)
Check-in time is 1 PM Check-out time is 11 AM
Guests are allowed to purchase 1 extra site for friends/family. (Extra campsite must be filled within 24 hours of purchase or site will be sold.)
YOU MUST CHECK-IN AT THE OFFICE BEFORE SELECTING A SITE!
Guests are only allowed to purchase 1 extra site for friends/family (Extra campsite must be filled within 24 hours of purchase or site will be sold)
A full list of campground policies can be found here!
Frequently Asked Questions – Woodland Park Campground
Refunds – If you request a refund 14 days or more before your arrival we retain ONE day of camping and refund the rest. If you request a refund after 14 days, we do not issue a refund. There are no other refunds available at Woodland Park Campground.
Contact Information:
Woodland Park Campground
P.O. Box 430
Grand Marais, MI 49839
(906) 494-2613 | woodlandpark@burttownship.com
Park Phone (April – October): (906) 494-2613
Burt Township Office: (906) 494-2381
Emergency: Dial 911
Alger County Sheriff: (906) 387-4444
2022 Campsite Fees*
 
Nightly
Weekly
Monthly
Prime Lakefront
$47.70
$333.90
$1,335.60
Lakefront
$42.40
$296.80
$1,187.20
Other Electric
$37.10
$259.70
$1,038.80
 Primitive
$31.80
$222.60
$890.40

*No refunds on first-come/first-serve site*
*Limited Reservations*

Prices are subject to change without notice!
OPEN April 20th – October 15th
Before May 1st and after October 15th – Limited cable, electric, and water availability