The Grand Marais Historical Society maintains two museums in Grand Marais; the Lightkeepers Museum and the "Pickle Barrel House" Museum.
Lightkeepers Museum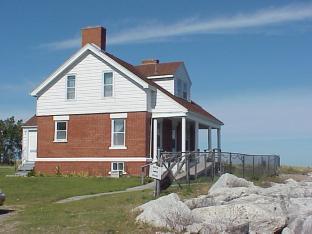 Featuring a restored lighthouse keeper's dwelling, offers a glimpse into the past with period antiques, displays of the logging era, and many, many photos of the boom town days at the turn of the century (1900)! Located at the end of the Coast Guard Point Road and at the edge of the west pier, visitors are invited to explore the museum daily (except Monday) in July and August from 1:00 – 4:00, and on weekends in June and September. Private tours are available by appointment. Admission is free, though donations are gladly accepted! For more information, contact the Grand Marais Historical Society at (906) 494-2306.
Pickle Barrel House
A Michigan and National Historic Landmark, is located on Lake Avenue and Randolph Streets just as you come into Grand Marais. It was acquired by the Historical Society in an effort to save this very unique structure through the generosity of the previous owner, Mr. Ed Warren, and an anonymous donor. The house was built in 1926 by the Pioneer Cooperage Company of Chicago and is an actual barrel, standing 16 feet tall. This was cartoonist William Donahey's summer home for ten years, where he drew many of the Teenie Weenie cartoon stories. The Historical Society opens the house for visitors from June to September with tours and plenty of interesting conversation!