Flotilla 09C 26 12
Grand Marais, Michigan
Flotilla 09C 26 12 in Grand Marais, Michigan meets on the second Tuesday of the month at 7:00 pm at the Coast Guard Building on Coast Guard Point. Visit our website at this link.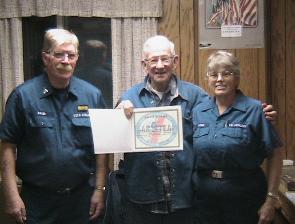 Howard Baker, Gene LePeak and Sharon Cashin are given SAR9TEAM awards (Search & Rescue) for the heroic rescue of a fishing charter boat with five people on board which was stranded on Lake Superior near Au Sable Point during high waves in July 2005. Steve Bell was also awarded for an exceptional job as radio watch. Steve was instrumental in leading the auxiliary members boat to the dark and stranded fishing charter by keeping constant communication with both during the nearly 6 hour rescue.